Reviewer WordPress Plugin The Reviewer WordPress Plugin ?allows you to insert reviews inside your WordPress blog posts in a quick and easy way. The plugin flexible structure allows you to create any review type: no limits, just create a review template and insert your personal review inside your posts

Reviewer WordPress Plugin
The Reviewer WordPress Plugin ?allows you to insert reviews inside your WordPress blog posts in a quick and easy way. The plugin flexible structure allows you to create any review type: no limits, just create a review template and insert your personal review inside your posts. The plugin offers different layouts and colors customization so that you can adapt your reviews to your need. Each theme has a responsive layout to adapt to any devices resolution such as smartphones and tablets.

Updated on September 17, 2013
What's new in version 1.1
Added the possibility to customize each theme:

Text Color
Total Score Label
Total Score Box Color
Different colors for High, Medium and Low Scores
Pros and Cons Section completely customizable (label, color, font size…)

Improved 'Add Review Box':

Add slider for setting scores (a quicker way to add reviews)
Reviews Tabs: now all post reviews are displayed in a tab mode for a better user experience.

Minor bugs fixed
Features
Reviews Templates Manager
You can create, customize, edit and delete templates for your reviews.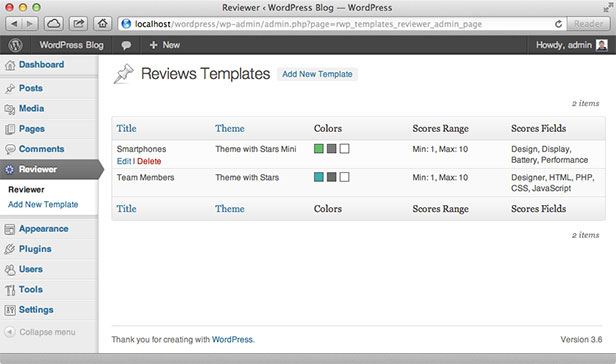 NOTE: The plugin requires PHP 5.2+ and WordPress 3.5+ to work.